Events
Updated on 11/11/2022 - 15:17
November
Silta, connecting early-stage founders from Finland to the SF Bay Area 
Silta is a program that takes Finnish entrepreneurs to the SF Bay Area for three months to immerse them into the vibrant, lively culture of the SF Bay Area.
The purpose of Silta is to enable ambitious entrepreneurs from Finland to develop their company and vision in the can-do environment of Silicon Valley. We want to transform the humble Finnish attitude atmosphere to support taking on new, internationally ambitious ideas - to promote companies born global from day one.
Application period: 20.10.-4.12.2022
Selection for the interviews: 5.-7.12.2022
Interviews: 8.-15.12.2022
Final selection: 21.12.2022
Orientation: 16.1.-17.2.2023
Program: 19.2.-13.5.2023
NOME Annual Meeting & Startup Competition 
This is where the leading experts within life science meet and network, and where we get to experience some much-needed entertainment and socializing. A central part of the NOME Annual Meeting is our Startup Competition, which provides the opportunity of learning more about the most promising Nordic life science startups as they pitch their businesses and projects.
Fri, November 11, 2022, 2:30 PM – 8:00 PM CET
Industriens Hus 18 H. C. Andersens Boulevard 1553 København Denmark
Workshop: Competitiveness of Finnish health sector - towards vision 2030
November 14, 2022 at 1:00 pm - November 15, 2022 at 3:30 pm
Online events: Teams
The 9th MEDICA CONNECTED HEALTHCARE FORUM connects health innovators, tech entrepreneurs, investors, and industry experts. It is the global hotspot for the latest tech and innovations that drive digital health transformation.
 
More than 120 speakers present and discuss breakthrough innovation and best practice growth journeys at the MEDICA CONNECTED HEALTHCARE FORUM in keynotes, tech talks and pitch sessions. Key topics of the 4-day program in 2022 are: Connected medical things, AI & big data, robotics, health metaverse, future hospitals and care centers, health monitoring and diagnostics, mobile health, digital therapeutics, mental health, and more. The MEDICA DISRUPT sessions present 100 selected startups and scale-ups in the pitch including the prestigious finals of the 11th MEDICA START-UP COMPETITION and the 14th Healthcare Innovation World Cup.
14-17 November, Düsseldorf Germany
14-17 November, Düsseldorf Germany
AI Day is the biggest annual event highlighting the leading AI research in Finland. The event brings together researchers, companies, students and the public sector involved in the fast-developing field of AI. AI Day promotes matchmaking, information sharing, and cross-border collaboration.
The AI Day program features keynotes and an extensive scientific program including presentations, posters and demos.
November 16, 2022
Venue: Dipoli, Aalto University, Espoo
Pre-Slush UK afternoon: Scale your business to international success
This is an exciting opportunity for Finnish companies to learn more about scaling your business in the UK and raising capital for international growth, as well as a forum to share your experiences with like-minded founders and investors from the UK and Finland, with particular focus on fintech and health & life sciences. You will also have the chance to connect with strategic partners supporting companies' international growth. Furthermore, we will host exclusive workshops to continue more in-depth discussions about the UK market, where you will obtain sector specific information as well as advice from the various experts.  
Wednesday, 16 November 2022
14:00 - 17:00 
British Ambassador's Residence, Itäinen Puistotie 15, Helsinki
RSVP Please register your interest to attend HERE by 13 November
Match XR is an annual Slush pre-event focusing on extended reality (XR), Web3, gaming, and everything in between and beyond.
As the biggest one-night XR & emerging tech dedicated event in the Nordics, Match XR creates an overview of the current Finnish XR & emerging tech scene, and brings fresh start-ups, industry veterans, investors, students and other tech enthusiasts together!
16 November 2022
4–8 PM
Helsinki, Finland
Topics discussed: Health and Pharma, Environment and Forest, Food Systems
Y Science is an event that brings together the curious scientific community and the business world to inspire concrete action and contribution to society in the field of life sciences. Y Science invites all those enthusiastic about life sciences and commercialization of research for a moment of mutual enlightenment.
November 17th 2022, 12.00-16.00
Helsinki, Finland, Messukeskus
Topics discussed: Science-Based Innovations and Spinouts, Deeptech, Impact Investment
There are three scenarios that we believe in: science-based innovations will change the world, science-based spinouts have the proven potential to become hugely successful businesses, and the future may be changed by those who believe and back them early on.
Thursday 17.11.2022, 17:00–20:00
Think Corner, Yliopistonkatu 4, 00100 Helsinki
Future of Healthcare - by Vertical
Join us in shaping the future of healthcare in Finland. Healthcare is becoming increasingly expensive and the system overburdened. The direction we are heading today needs correction and new ways of working. We need to begin making decisions with longer time horizons and with the proper involvement of relevant industry stakeholders. At Future of Healthcare, we invite you to participate in planning and crafting solutions of tomorrow.
After a world-class keynote and panel discussion, the evening continues with networking, good beats, light food, and a glass or two. 
17 November 2022, 5:30 PM – 11:00 PM EET
G Livelab 3 Yrjönkatu 00120 Helsinki
Datasta uusia terveysinnovaatioita
To 17.11.2022 klo 08:30 - To 17.11.2022 klo 15:00
LeaF-tila, Linnanmaa, Oulun yliopisto. Lisäksi aamun webinaarissa on Zoom-etäyhteysmahdollisuus.
Geenitieto syöpää selättämässä
torstaina 17.11.2022 klo 9 – 13.30
Startups for sustainable development 
Topics discussed: Sustainability, Impact Startups
Europe has set an ambitious climate goal to reduce global warming, and an abundance of new impact startups are being founded with a mission to improve the planet.
At this event, startups, investors, organizations, and corporate partners come together to discuss how we can accelerate and support the role of impact startups in creating a more sustainable future that benefits all. We will also share more details on how Google's program supporting Startups for Sustainable Development can help accelerate the impact of startups that are addressing sustainable development goals.
Messukeskus, Siipi 101AB
Nov 18, 10 am–12 pm
Japan visiting: Fukuoka x Helsinki – Promising and dynamic changes in health care market 
Recent couple of years, digital transformation has been brought attention in various businesses around the world. In Japan, for example, a diversity of working style triggers those more interested in individual well-being, corporate health management, and technology-based healthcare.
Fukuoka City, known as the most energetic city in Japan, and Helsinki will cohost this event to present mutual case studies and startup pitches, which makes you never overlook a promising market of each area.
Friday 18.11.2022, 10:00–11:30
Helsinki Partners Lounge (Exhibitors Club, Messukeskus)
Messuaukio 1, 00521, Helsinki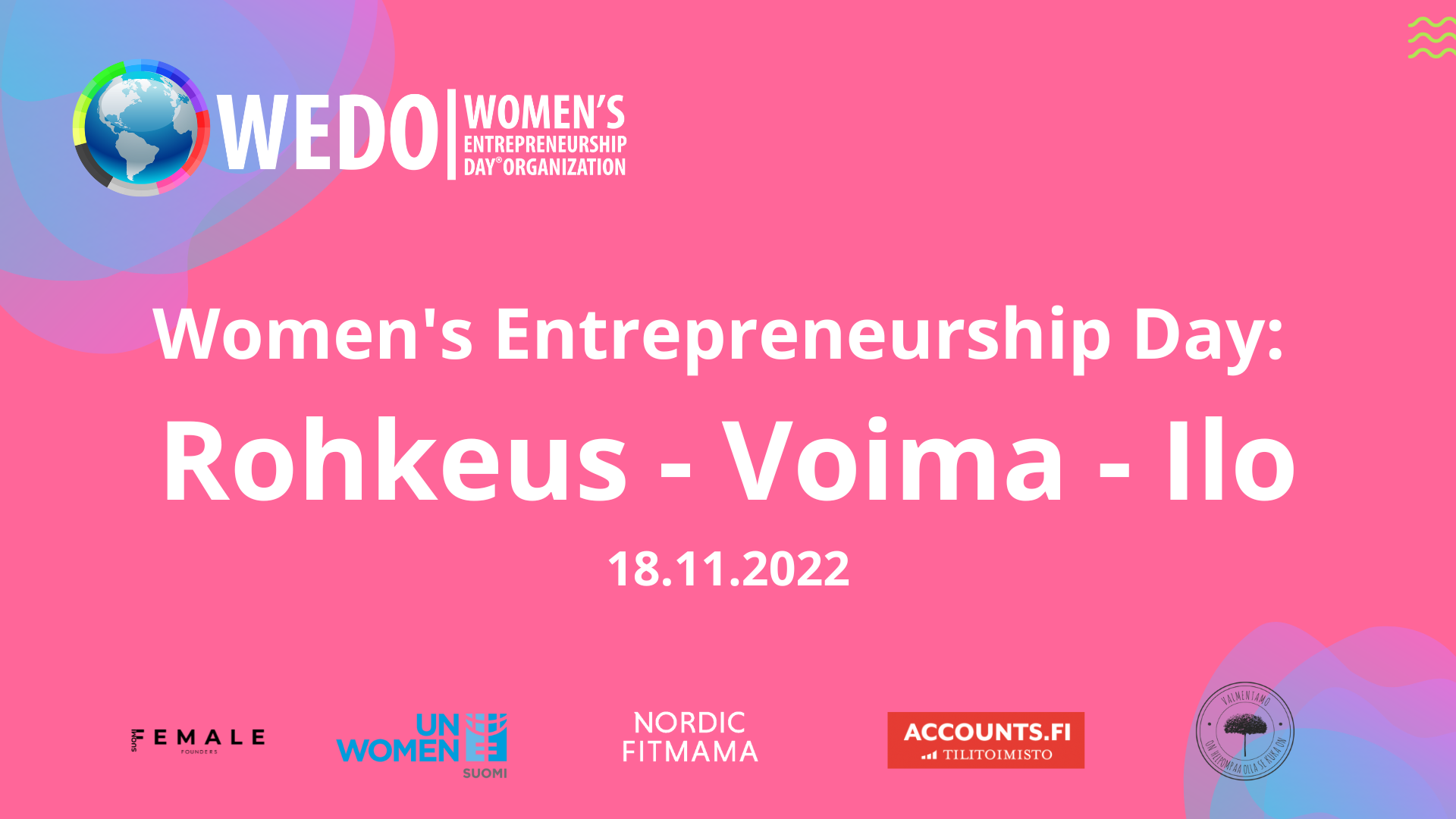 Women's Entrepreneurship Day: Rohkeus - Voima - Ilo 
Kyseessä on Suomen suurimman maksuton tapahtuman naisyrittäjille, yrittäjyydestä haaveileville ja ihan kaikille, jotka kaipaavat iloa ja inspiraatiota. Tapahtuma järjestetään digitaalisesti ja mukana on huikeita puhujia, joiden tavoite on tarjota konkreettisia työkaluja yrittäjille heidän arkeaan helpottamaan.
pe 18.11.2022 klo 9-12
Artificial intelligence is increasingly involved in medical software products. What are the challenges of this trend to agile software production? How development methods and processes should evolve to enable use of machine learning and personal data in regulated medical software? 
These and related topics will be addressed in the open AHMED project seminar. You are warmly welcome to participate the seminar, which presents the results obtained in the AHMED project and provides an open forum for discussion and networking.
Tuesday, November 22, 2022
Time: 12:30 – 17:00
Place: NH Sora, Business Finland, Porkkalankatu 1, 00180 Helsinki
Terveyden 5G/6G sovellukset – pohjoisesta puhaltaa 
Kansalaisten terveystottumuksiin ja elämäntapoihin vaikuttamalla voidaan saavuttaa merkittävää kustannusvaikuttavuutta terveyspalveluiden saatavuuden turvaamiseksi myös tulevaisuudessa. Yksilön itsensä keräämä tieto innovatiivisen teknologian avulla ja tämän omadatan integroiminen osaksi terveydenhuollon keräämää terveystietoa on avain tulevaisuuden terveyden haasteiden ratkaisemisessa.
Korona-pandemia on entisestään nopeuttanut maailmanlaajuista siirtymistä 5G-verkkoteknologiaan, mikä tuo tullessaan nopeat, viiveettömät ja suuren kapasiteetin mobiiliyhteydet. Tämä mahdollistaa etämonitoroinnin ja etävastaanoton sekä uudet innovatiiviset tavat tuottaa ja välittää terveyspalveluita sekä tukea ennaltaehkäisyä. Älykkäät etäratkaisut edistävät terveyspalveluiden tasapuolista saavutettavuutta mikä on tärkeää erityisesti haja-asutusalueilla, kuten Lapissa.
24.11.2022 8:30–16:00
Lapin AMK Borealis-sali / Teams
Jokiväylä 11 B, 96300 Rovaniemi
Webinaari: Terveysteknologia ikäihmisten tukena – uhka vai lupaus?
24.11.2022 klo 9.00–10.30
Luvassa on kiinnostava katsaus teknologian hyödyntämiseen hoiva-alan ympäristössä! Terveysteknologia ikäihmisten tukena – uhka vai lupaus? -webinaari tarjoaa sinulle ajankohtaisia näkökulmia, kiehtovaa keskustelua & konkreettisia asiakastarinoita hyvin toteutetun teknologiahankinnan sekä RAI:n käytöstä.
Pääset kuulemaan, mitä on hyvinvointiteknologia tänä päivänä sekä mitkä ovat teknologian mahdollisuudet ja keskeiset standardit. 1,5 h aikana saat myös myös vastauksia seuraaviin kysymyksiin:
Miten teknologiaan suhtaudutaan hoiva-alalla?
Kuinka hankkia kustannustehokkain, mutta henkilökunnalle toimivin ratkaisu?
Entä kuinka saada tiimi mukaan muutokseen?
Health Proof Helsinki workshop 
Come and create a productization path for your idea/product/service with our experts.
On Monday 28.11.2022 at 13-17, you have a unique opportunity to participate in the first Health Proof Helsinki business workshop. The workshop will be held at Metropolia University of Applied Sciences' Myllypuro campus in Helsinki.
Our experts spar e.g.
-Financial matters
-In matters of regulation
-With ethical guidelines and in matters related to research permits
-Growth potential, international potential
-Test and research environments
-Opportunity to discuss your idea with our experts
Advancing the secondary use of health data – insights across Europe and globally 
We don't need to invent everything ourselves, and we can learn from each other. This has been the core message in the National Initiatives Network on the secondary use of health and social data since 2017, when Sitra established and started coordinating the network. The network focuses on sharing knowledge and up-to-date information on creating the best growth environment for health and social data research, development, and innovation in Europe and globally.
The event highlights network's core activities. Each country will share what obstacles they have overcome, lessons they have learnt, how ready their countries are to uptake the upcoming European health data space legislation and what they are most excited about in the development of secondary use of health data. It is a great opportunity to hear updates from various countries, also outside of Europe such as Australia, Israel, and New Zealand.
November 28, 2022 at 10:30 am - 12:30 pm
Online event: Teams
Nordic Amplify 2023 Launch Event: Accelerated US Market Entry 
Accelerate your US market entry with this unique and competitive opportunity to partner with leading US healthcare stakeholders!
Tue, November 29, 2022, 2:00 PM – 5:00 PM CET
December

 
SmiLe e-Campus is an eight-week program designed for aspiring life science entrepreneurs in any field of the life sciences. Biotech, medtech, healthtech, e-health, pharma, diagnostics… you name it.
You'll learn through a combination of online lectures and tests, as our industry experts take you through everything from business models to funding & venture capital, from marketing to IP.
Deadline for applications 4 December 2022.
Fimean webinaari lääkinnällisten laitteiden jakelijoille
Fimea järjestää lääkinnällisten laitteiden jakelijoille eli mm. lääkinnällisiä laitteita myyville apteekeille, marketeille ja verkkokaupoille suunnatun webinaarin. Maksuton ja kaikille avoin mahdollisuus osallistua online. Ohjelma julkaistaan pian.
8.12.2022 klo 13:00–15:00.
Brain Imaging for Improved Research and Therapies
Welcome to the next free online event on December 8 from the Health Talks series – health, life sciences and entrepreneurship talks organised by Aalto University, Health Design, Health Hub Tampere, HealthTurku, HiLIFE, Kuopio Health, OuluHealth, Terkko Health Hub, Upgraded – Health Startup Association of Finland, Laurea Entrepreneurship Society, Metropolia Entrepreneurship Society and Xes Helsinki.
In this Health Talks event, experts in brain imaging and brain therapies discuss new software, AI, and medical device technologies that may come to offer significant value for neuroscience and medical treatments worldwide.
Specifically, the presentations delve in magnetic resonance imaging (MRI), functional MRI, transcranial magnetic stimulation (TMS) and related artificial intelligence technologies. Each presentation is directly followed by a Q&A session.
The event is jointly organized by Aalto University and Kuopio Health, and the speakers hold positions at Aalto and the University of Eastern Finland.
Thu, December 8, 2022, 3:00 PM – 4:20 PM EET
LIVE HEALTH TUESDAY: MITÄ TERVEYSALAN YRITYSTEN JA TUTKIJOIDEN TULISI TIETÄÄ IMMATERIAALIOIKEUKSISTA?
Immateriaalioikeudet (intellectual property rights, IPR) ovat tärkein tapa varmistaa yrityksen kilpailukyky ja huolellinen IPR-strategia voi ratkaista kilpailun eduksesi. Tule mukaan kuulemaan kattava läpileikkaus IPR-asioiden eri näkökulmista alan kotimaisilta huippuasiantuntijoilta! 
HELSINKI 13.12.2022 Klo 13:00-18:30
Team Finland -talo
Porkkalankatu 1, Helsinki
January
Nordic clusters and ecosystems team up with UK partners to organize the Propel@YH Nordic Boot Camp. The program builds on the success of an accelerator program organized by the Yorkshire and Humber Academic Health Science Network (AHSN) since 2019, and gives Nordic innovators access to five days of intensive support, knowledge and engagement with UK healthcare experts. Up to 10 companies across the Nordics will benefit from a week of masterclasses, workshops and networking events on topics such as understanding how the NHS works, NHS governance, finance and procurement frameworks, clinical safety and supplier regulations, developing evidence-based proposals and reimbursement models.
After the bootcamp week, Nordic companies will have a solid foundation to create a knowledge-based export strategy for introducing their solution to the UK market. Deep insight of the challenges and opportunities, who the right partners are, who the buyers are and the right market segment.
April
Welcome again to DMEA 2023 from 25 to 27 April in the Berlin exhibition halls! After the furious restart of DMEA 2022, experience once again all facets of digital health bundled in one place.
June
Radical Health Festival Helsinki ´23 
12-15 June